Proper storage of food is essential in foodservice establishments. Failure to follow and practice proper food storage guidelines can lead to cross-contamination of food, which can lead to costly unneccesary expenses. Food will have to be discarded, or worse, if it is prepared and served to patrons, this could result in illness and possible lawsuits.
Placing food in the proper storage containers is critical, but you should also know where in your refrigerator to store product. Refrigerated raw meat, poultry, and seafood should be stored away from ready-to-eat food. If these products can not be stored separately, they should be stored in a specific order on refrigerator shelves. To prevent juices from raw foods from spilling onto ready-to-eat foods, these ready-to-eat foods should always be stored on the top shelf.
There is also a proper shelf to store different types of raw foods. Moving downward starting with ready-to-eat foods on the top shelf, seafood should be stored on the shelf directly beneath. Below that, whole
cuts of beef and pork should be stored on middle shelf. On the shelf below that, ground meat and ground fish should be stored, and whole and ground poultry should be stored on the bottom shelf beneath the ground meat and fish food items.
The ordering of these products is based on the minimum internal cooking temperature of each food. Ready-to-eat foods should be cooked to a minimum internal temperature of 135 degrees F, while whole seafood requires a minimum cooking temperature of 145 degrees F. Whole cuts of raw beef and pork need to be cooked to a minimum 145 degrees F, raw ground meats must be cooked to 155 degrees F, and raw poultry must be cooked to a minimum internal temperature of 165 degrees F.
photo courtesy of www.daydots.com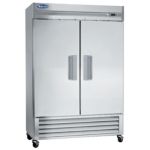 Now that you are aware of the proper storage guidelines for location of foods within your refrigerator, you, of course, want to make sure that you are maintaining the maximum internal temperature of 41 degrees F or lower in your refrigerator (unless recommended otherwise by manufacturer). Having the proper foodservice equipment is a must when trying to maintain food safety requirements. US Foods Culinary Equipment & Supplies offers a wide selection of reach-in and walk-in commercial refrigeration units. Our products include our exclusive Superior Brand, as well as products from industry leaders True, Beverage Air, Arctic Air and Nor-Lake.
Choose from over 12,000 products sitewide, ranging from restaurant pots and pans to commercial kitchen equipment. More than half of our products are stocked in our four nationwide restaurant supply warehouses, ready to ship out within one business day. Delivery times are usually 3 to 5 business days within the continental United States.